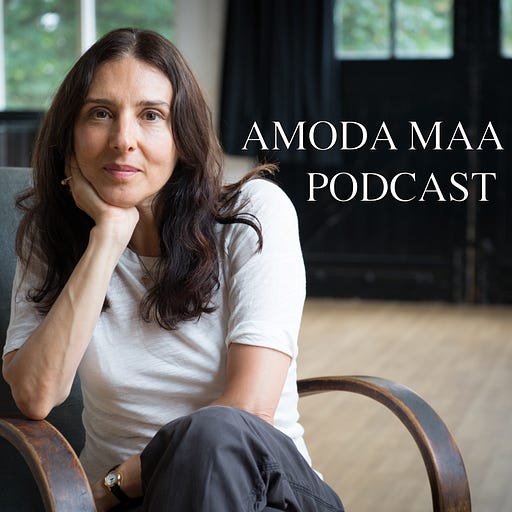 Apr 5, 2022 • 59M
Episode 21: The Feminine in Spiritual Awakening (with Ellen Emmet)
Insightful and intimate conversations with spiritual teacher and author Amoda Maa about her essential teaching of embodied enlightenment and her life. Please subscribe if you would like to be notified whenever new episodes are released. To find out more about Amoda's teaching, events, and publications, please visit amodamaa.com - Music by Kavi Jezzie Hockaday
In this episode, Amoda Maa is in conversation with Ellen Emmet, psychotherapist and nondual teacher (www.ellenemmet.com).
Together they explore the role of the feminine in spiritual awakening, especially as it relates to the traditional advaitic approach and a more heart-centered approach that includes our human-ness.
Ellen offers meetings and retreats in The Awakening Body, a direct exploration of experience sourced in the non-dual tradition of Kashmir Shivaism, Authentic Movement, and self-inquiry. In addition, she has a private practice as a Psychotherapist, and facilitator of Authentic Movement. She lives in Oxford (UK) with her husband Rupert Spira, also a teacher in the tradition of non-duality.